Ken Edwards is the editor and publisher of Reality Street. In addition to his own Reality Street books, he has had numerous books of poetry and prose published by other presses, detailed below.
Born in Gibraltar, came to Britain in his teens, studied at King's College London. Spent 35 years living in London and working mostly as a journalist. Married Elaine in 1999, moved to Hastings in 2004, where he now lives, writes, runs Reality Street and plays bass guitar with The Moors.
Ken's Wikipedia entry is here.
Ken's blog can be accessed here.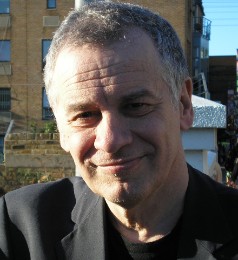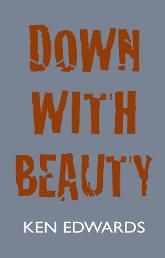 Books in print
Down With Beauty
In a series of linked dialogues, dramatic monologues and short fictions, the themes of exile, the aftermath of war, paranoia, improvised music and nothingness are explored. The collection is completed with the full text of Nostalgia for Unknown Cities (see below), previously published separately.
"Like glassy-eyed screen junkies, casual consumers of language ... often ignore the reach and density of the technology that so entirely enthralls them. Not so for readers who engage with the disturbing elegance of Ken Edwards' elegiac Down With Beauty. Beckett meets Coltrane, Bo Diddley meets Satie, the Sex Pistols meet Swift - the prose at once shimmers and infuriates, engages and intimidates...." (Joseph Dewey, Review of Contemporary Fiction)
Review by Andy Brown in Stride Magazine
Review by Richard Parker in Shearsman Review

Sections are readable online as follows:
Us and Them (posted at Douglas Messerli's EXPLORINGfictions)
Soldiers (in Golden Handcuffs Review)
A Memoir of Our Father (in Ekleksographia, "after Oulipo" issue)
Nothing Doing (in Vlak 2, pp101ff)
In Gondwanaland (in Black Market Review 2)
Epilogue: In the House of Exile (in Gangway issue 40 "Expatriations")
Read an extract from Nostalgia for Unknown Cities here.
A response by Brian Marley to Nostalgia for Unknown Cities
"Edwards' sentences describe – and yet refuse to describe – with a simple and consistent beauty": A review by A D Jameson in Review of Contemporary Fiction
And read Paul A Green's extended essay on Nostalgia.
"...hypnagogic derangement as the urban dream dissolves before our eyes."- Iain Sinclair, The Observer
"Really a great sustained resilient and berserk piece of work." - Fanny Howe
2013, 978-1-874400-61-5, 240pp, price £10.50
.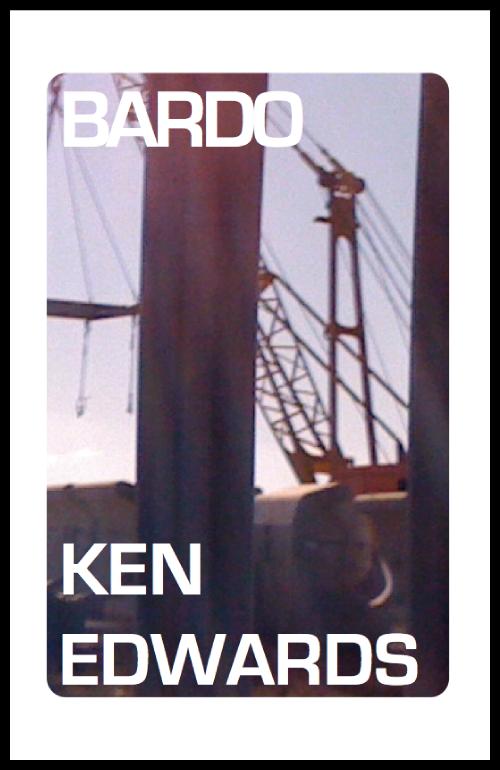 Bardo
forty-nine prose pieces over seven days
Extracts appeared as the pamphlets Red & Green and Millions of Colours, but the full text of this modern rewrite of the Tibetan Book of the Dead (the Bardo Thodol) is now available here. The illusory gods and demons haunting the original have been translated into modern equivalents, while the original colour scheme of the seven days has been retained. This version has the port and old town of Hastings as its backdrop. With seven colour plates.
2011, published by Knives Forks and Spoons Press (Newton-le-Willows)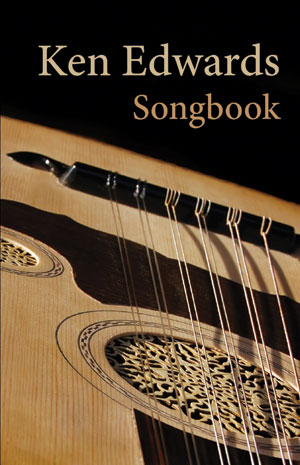 Songbook
Spanning two decades of work, this book contains songs that have never been and never will be sung; anti-lyric and narrative poems for which a musical equivalent has been constructed; and text written specifically for musical purposes (including the text for a piece composed by the pianist John Tilbury). Also included are the scores of three settings by Elaine Edwards of three poems from eight + six.
2009 – published by Shearsman Books (Exeter)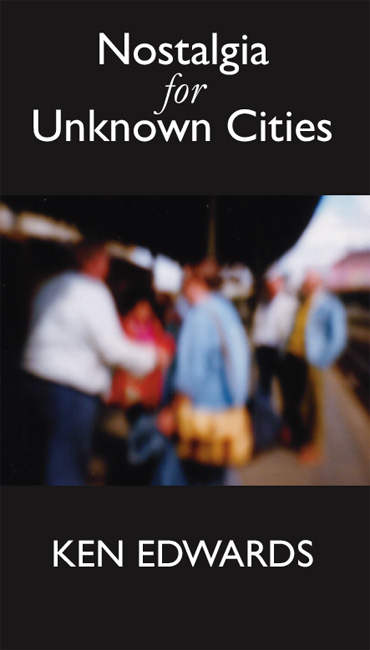 Nostalgia for Unknown Cities
The unnamed protagonist of this anti-narrative compares the city of his birth to a dream he later awakens from, "located in the realm of dreams that bears no obvious resemblance to any actual city that may exist or might have existed". He goes on to catalogue, obsessively, his real and imagined experiences in a succession of real and imaginary cities. This book is now out of print, but the full text has been incorporated into Down With Beauty (above).
2007, 978-1-874400-40-0, 110pp, O/P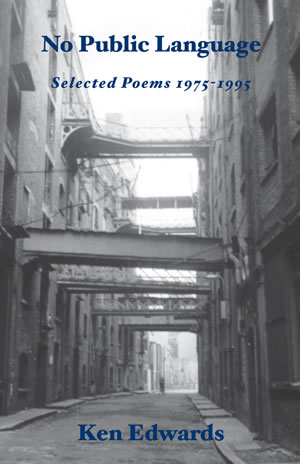 No Public Language: Selected Poems 1975-1995
This volume contains "what I think of as the essential matter in my verse composition over two decades" (said the author on publication). It collects the books and pamphlets Drumming & Poems, Intensive Care, 3600 Weekends, A4 Portrait, A4 Landscape and Erik Satie loved children, plus more recent uncollected poems, refugees from the ill-fated Glissando Curve.
2006 – published by Shearsman Books (Exeter)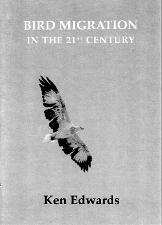 Bird Migration in the 21st Century
A collection of three poetic sequences: the title set, followed by "The Cats of Chora Sfakion" and "His Window Settles". The first and third are further out-takes from Glissando Curve. This 48pp pamphlet from the elusive Spectacular Diseases imprint has been hard to get, but Reality Street has some copies at £4.
2006 – published by Spectacular Diseases (Peterborough) and available through Reality Street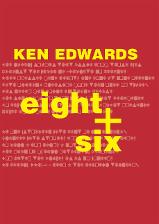 eight + six
An integrated sequence of 98 personal poems.
"Like Ted Berrigan before him, Edwards has written sonnets that actualise the blur between reading, remembering, perceiving and thinking, by collage (or perhaps I should say by assemblage – you can glue in lines from a Wyatt poem, or from a lecture by Hejinian, but can't you glue in a conversation or how you observed a man "up to his wrists in engine" – you have to stand these next to the others.)"
James Wilkes in Intercapillary Space
"These wild and virtuoso sonnets undermine the usual volta to produce amazing and unique constellations".
Marjorie Perloff
2003, 1-874400-25-3, 112pp, price: £7.50 £5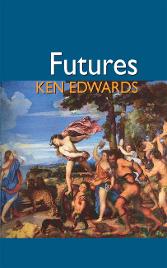 Futures
Ken Edwards' first published novel was reissued in 2010 under a new cover after briefly going out of print.

The narrative traces the paths taken on her bicycle by the protagonist, Eye, across and out of an unnamed city in the wake of an event she can't remember. Her quest is to face her terror and retrieve the fragments of her life, which lie in the future that never quite arrives, until it does.
An extended response by JH Prynne to this book is available online at Golden Handcuffs Review.
1998, 1-874400-13-X, 156pp, £9.50
£7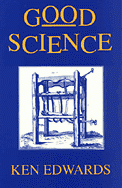 Good Science
Poems 1983-1991. A (prose) preface and three sequences. New York based Roof Books, run by James Sherry and associated with many of the Language writers, published this one, and it's still in print.
1992 – published by Roof Books (NY) and available from SPD.

Online books and publications
The Glory Boxes in onedit issue 7
Chaconne (at www.shearsman.com)
Online audio & video
Archive of the Now recordings, 2005
Reading from "Bardo" and "There's something in there..." from

Songbook
at The Other Room, Manchester, on 6 April 2011
Playing bass guitar and singing with The Moors, May 2011
Poetry, fiction, translations, criticism in magazines
These include: And, Angelaki, Bananas, Big Allis, Boundary 2, Cannibal Spices, Critical Quarterly, Exact Change Yearbook, Five Fingers Review, Fragmente, The Gig, Golden Handcuffs Review, Jacket, Kiosk, L=A=N=G=U=A=G=E, Litmus Magazine, The Many Review, New American Writing, Ninth Decade, Oasis, Object Permanence, onedit, Pages, PN Review, Poetry Salzburg Review, Sulfur, Sunfish, Talisman, La Traductière, Transatlantic Review, Veer Off, VLAK, West Coast Line


Poetry, fiction and essays in anthologies
New Stories 2 (Arts Council, 1977)
Angels of Fire (Chatto & Windus, 1986)
The New British Poetry (Paladin Books, 1988)
Floating Capital: new poets from London (Potes & Poets Press, 1991)
Poets on Writing (Macmillan, 1992)
Other: British & Irish Poetry since 1970 (Wesleyan University Press, 1999)
Binary Myths 2: correspondences with poet/editors (Stride, 1999)
News for the Ear: a homage to Roy Fisher (Stride, 2000)
The Canting Academy (ISPress, 2008)
The Reality Street Book of Sonnets (Reality Street, 2008)
As editor
Currently editor/publisher of Reality Street
Editor of Reality Studios magazine (1978-88)
Co-editor of Alembic (1973–79)
Co-editor of The New British Poetry (Paladin Books, 1988)
Performances and readings
Appearances since 1980 include:
LONDON: Amid The Ruins, Daniel Blau Gallery/Royal Holloway University of London; Birkbeck College (performance of "The Glory Boxes"); The Blue Bus at The Lamb; Crossing the Line at the Poetry Café, at The Plough and at The Apple Tree; The Calder Bookshop; The Room, Tottenham; Tears in the Fence festival, Dulwich College; SubVoicive Poetry, various venues during the 1980s-90s; Camden People's Theatre; VI series; King's College London; Queen Elizabeth Hall foyer (with the COMA London Ensemble)
BRIGHTON: University of Sussex (performance of Louis/Celia Zukofksy's "A"-24); "desperate for love" at Komedia; Brighton Fringe Festival (with the COMA London Ensemble)
CAMBRIDGE: CCCP; Cambridge Series; rem press readings
HASTINGS: Fish Gallery; The Electric Palace (in the Black Huts Festival, 2012); The Roomz, St Leonards on Sea
NORTH WEST: Edge Hill University, Ormskirk, Merseyside; The Other Room, Manchester
NORTH/NORTH EAST: Huddersfield Poetry Festival; Morden Tower, Newcastle upon Tyne; Colpitts, Durham
SOUTH WEST: University of Plymouth at Exmouth; The Language Club, Plymouth; Exeter Literary Festival; Bath Music Festival and Oxford Music Festival (with the COMA London Ensemble)
IRELAND: The Winding Stair Bookshop, Dublin
FRANCE: Anglo-French Poetry Festival, Paris
CZECH REPUBLIC: Globe Bookstore, Prague
LITHUANIA: Druskininkai Poetic Autumn Festival
USA: The Ear Inn, New York; Small Press Traffic, San Francisco; The Poetry Center at the Meridian Gallery, San Francisco; The Johnny Otis Café, Sebastopol, California
CANADA: Kootenay School of Writing, Vancouver, BC
Etc...
Ken's essay "The Two Poetries" is available as a download at the Great Works site.

An extended response by JH Prynne to Futures is available at Golden Handcuffs Review.
A response by Brian Marley to Nostalgia for Unknown Cities is at Golden Handcuffs Review.
An interview was published by Signals magazine, another more recently at Dr Fulminare and one mainly about songwriting at Hastings Online Times.
And 12 or 20 questions (mainly on Reality Street) were answered on Rob McLennan's blog in February 2011.

An article on small press publishing is at the Electronic Poetry Centre - since updated for Mimeo Mimeo magazine.


Music
Currently playing bass guitar, singing and songwriting with The Moors in Hastings.

Compositions

:
Four Simultaneous Movements

for mixed ensemble, premiered by COMA Sussex at the opening of Brighton Library, 2006.
Co-writer (with Alan Taylor, Ann Wolff + 2 others) of the opera

To the Edge

, premiered at the Steiner Theatre, London, November 2004.

Spiral Music

- incidental music for Fanny Howe's poem "Spiral", published with collages by Tom Raworth, Artery Editions, 2004.
Text for John Tilbury piece for piano, voice & electronics:

There's something in there

, premiered at Leeds Town Hall, July 2003.

Ornettology

(for string quartet) - selected by SPNM for performance by the Sorrel Quartet at the Cheltenham Festival, July 1997.

Bruised Rationals

(text/music piece, for speaker and large ensemble), 1996.
Molecule III for small mixed ensemble, 1996 (a 2013 realisation of this is here).